Sharp readying MEMS display for 2017 launch
Sharp Corp. has demonstrated a MEMS display jointly developed with Qualcomm subsidiary Pixtronix Inc. and announced it will be commercialized in 2017. The Japanese company will deploy this new display—dubbed the MEMS-IGZO display because it is a fusion of MEMS and IGZO technologies—in a bid to expand the use of displays to applications beyond the reach of LCDs.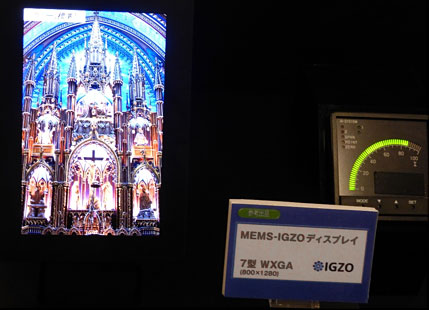 7" WXGA (800x1280) MEMS-IGZO prototype.
No numerical data were disclosed.
In view of the maturity of LCD technology and the consequent difficulty of achieving technological differentiation, Sharp is leveraging more than 50 years of experience in LCD display development as it seeks to open up promising new vistas in the display realm.
It is becoming harder for display manufacturers to wring further gains out of the LCD attributes they have traditionally focused on—high resolution, narrow bezel, low power consumption, and so on. Hence the attraction of the MEMS-IGZO display that offers such pluses as a far wider operating temperature range, visibility in bright sunlight and significantly lower power consumption. "We will offer the MEMS-IGZO display for applications beyond the reach of LCD displays, said Norikazu Hohshi, who heads Sharp's Device Business Group. "Sharp is seeking a new competitive advantage," he stressed.
The MEMS-IGZO display employs an IGZO backplane to drive the MEMS shutters that are an important new application of IGZO oxide semiconductor. Amorphous silicon transistors can't drive the shutters. Low-temperature polysilicon ones can do the job, but impose irksome constraints on display size. "For driving a MEMS display, nothing comes close to IGZO," said Atsushi Ban, a general manager at Sharp's Devices Technology Development Center, noting the possibility of much larger MEMS displays.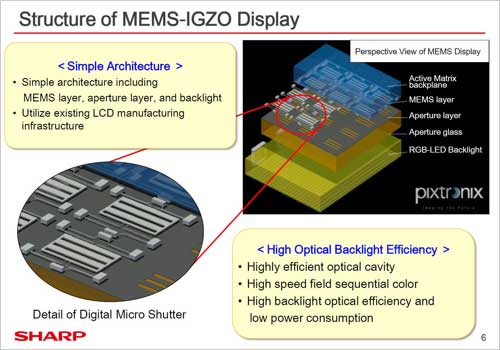 Following Sharp's announcement of an IGZO display panel in 2011, the oxide semiconductor technology caught the attention of other LCD manufacturers. DisplaySearch expects Samsung and LG Display to begin fabricating IGZO panels in the near future, and other manufacturers are also readying production facilities for IGZO panels. Jae-Hak Choi, a senior analyst at DisplaySearch, said at its summer forum held in Tokyo in July that oxide semiconductor technology is rapidly improving, much faster than expected. The firm forecasts that IGZO technology will account for 10% of panels used for tablets in 2015, rising to 17% in 2016.
Sharp is endeavoring to exploit its lead in the oxide semiconductor race by rapidly converting the G8 (2160x2460mm) Kameyama Fab II to the IGZO process. Considering the advantages in terms of volume—a single 8G substrate is good for more than 500 smartphone panels, cost per panel seems sure to fall, but finding sufficient demand to soak up this volume will be a challenge. The MEMS-IGZO display may have what it takes to pull off this feat.
Sharp is currently developing the MEMS-IGZO display at its 2.5G (405x515mm) Yonago fab. As demand takes off, Sharp will shift production to its Mie and Kameyama II fabs around 2016-17, according to Hohshi.
Pixtronix, acquired by Qualcomm in 2011, is providing the MEMS shutter technology. Collaboration between Sharp and Pixtronix, which started in 2010, blossomed into a joint-development contract in December 2012. Pixtronix president Greg Heinzinger, who doubles as SVP of Qualcomm's Technology Licensing Division, said that Sharp's prowess in LCD and IGZO technology sparked Pixtronix's interest and two years of joint development has reinforced the partners' mutual confidence.
The MEMS-IGZO display's structure consists of an RGB LED backlight, a substrate with slits, a MEMS shutter and an IGZO TFT backplane.
The MEMS shutter's gating speed of up to 100 microseconds allows the passage of red, green and blue light directly from the backlight. As the structure does not require a color filter or polarizer film, the light efficiency is 2-3 times better than that of LCD displays. The driving speed of MEMS shutters varies depending on the image displayed: the shutters open and close at high speed for full-color moving images, the gate speed is lower for still full-color images and is the lowest for gray monochrome images. This flexibility helps lower power consumption.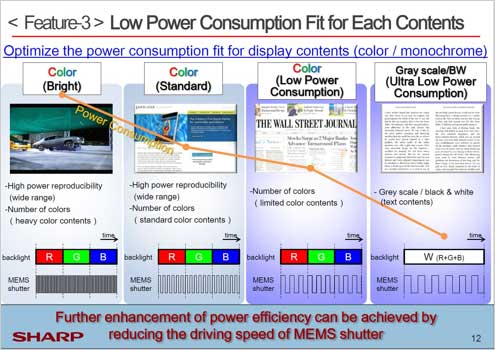 Since the display does not use liquid crystals, it is free from the limitations associated with them: thus the operating temperature range extends from less than -30oC degrees to over 90oC, light directly from the LED backlight improves visibility in sunlight, and the RGB LED backlight in the prototype display achieves a color gamut roughly 120% wider than the NTSC triangle, according to Ban.
Sharp is already offering samples for tablets and automotive applications. And the company is currently developing a higher-performance display with higher resolution and higher visibility for sampling around 2016. Volume production is planned for 2017.
Related articles:
Anything but rectangular as Sharp offers Free-Form Display (July 16, 2014)
Sharp to manufacture IGZO panels for smartphones on 8G substrates (Oct. 17, 2013)
Sharp to change to new IGZO structure within this year (June 5, 2012)
Sharp to introduce new IGZO technology for cost-competitive high-resolution small/medium LCDs (Apr. 22, 2011)