Sharp to introduce new IGZO technology for cost-competitive high-resolution small/medium LCDs
Demand for high-resolution small and medium-size LCD panels for smartphones and tablet PCs is growing so rapidly that a large gap between supply and demand is expected to open up this year. Sharp Corp. has announced a new LCD technology employing oxide-material-based thin-film transistors, which could be a solution to the tight supply situation. The panel features performance on a par with that of low-temperature polysilicon LCDs but can be mass produced on existing amorphous-silicon TFT LCD production lines.
Jointly with Semiconductor Energy Laboratory Co., Ltd.?Sharp's partner in the development of continuous grain silicon LCD technology back in 1998?Sharp has introduced a new oxide material consisting of indium, gallium, and zinc (hence IGZO) for thin-film transistors to drive liquid crystals in a panel. The IGZO transistors feature electron mobility 20-30 times higher than that of amorphous-silicon thin-film transistors.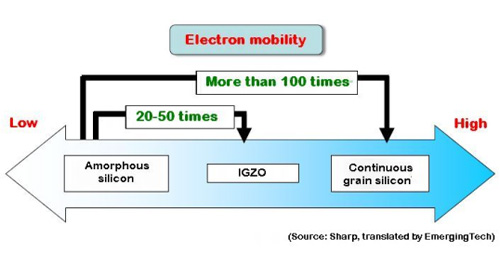 "The IGZO LCD panel's performance outclasses anything attainable with conventional amorphous-silicon TFT panels," said Shuji Sako, deputy group general manager of Sharp's Display Device Business Group.
As the performance of IGZO transistors surpasses that of amorphous-silicon transistors, they can be made smaller to achieve the same performance as conventional amorphous-silicon transistors, according to Sako.
If a transistor in each pixel of a panel becomes smaller, the panel lets more light pass. This advantage translates into lower power consumption and higher resolution. Sharp reported a reduction in power consumption of about 33% for a 10-inch-wide prototype panel compared to an equivalent panel with amorphous-silicon TFTs.
The greatest advantage of the new IGZO LCD technology is that conventional amorphous-silicon TFT lines can be used with a little modification, said Sako. So far, it has only been possible to fabricate high-resolution small/medium panels such as low-temperature polysilicon TFT panels and CG silicon panels with small glass substrates up to the 4th generation. As well as eliminating this limit, IGZO LCD fabrication will contribute to cost competitiveness, according to Sako.
Sharp's CG silicon LCD technology employs continuous grain silicon for pixel transistors. CG silicon, though it is a kind of low-temperature polysilicon, features mobility several times higher than that of competitors' low-temperature polysilicon. This higher mobility makes possible the formation of driver and other circuits on a glass substrate together with a display. Sharp intends to offer the CG silicon LCDs for applications that require resolution of more than 300 pixels per inch and IGZO LCDs for applications requiring high resolution but not so high as 300 ppi.
Sharp intends to fabricate the panel at its Kameyama No.2 fab, an 8th generation fab, which has been manufacturing panels for TVs. Sharp will begin modifying the facilities next month and plans to begin mass production within this year.
Press releases:
Sharp to Commercialize World's First Small- and Medium-Size LCD Panels using Oxide Semiconductor
Related articles:
Sharp to change to new IGZO structure within this year (June 5, 2012)
IGZO panel to feature less than 500mW power consumption for tablet (Apr. 20, 2012)
Sharp starts IGZO panel production three months behind schedule° Apr. 13, 2012)
Follow-up: Will alliance with Hon Hai Group be magic bullet for Sharp? (Mar. 29, 2012)
IGZO-TFT panel turns heads in display market where quality is king (Mar. 14, 2012)
In-cell touch LCD panel likely for next iPhone model (Feb. 15, 2012)
Sharp to suppress a-Si LCD production, converting to IGZO technology (Feb. 1, 2012)
Sharp giving up commodity TV panel production to concentrate on small/mid-size LCDs (June 14, 2011)
Apple select Toshiba's LCD for iPhone 5, media reports (Apr. 20, 2011)