Renesas starts offering its first ADAS SoC R-Car V2H
Renesas Electronics Corp. has announced the R-Car V2H system-on-chip LSI, its first product dedicated for advanced driver assistance system (ADAS) applications. Sampling begins this month.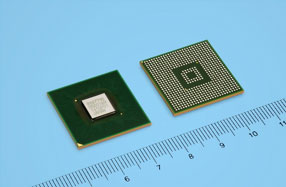 Ryuji Omura, executive vice president, proudly stated that Renesas has shipped 120 million automotive-use SoC chips since 2001 and has around a 70% share of the global automotive SoC chip market. Renesas has been promoting the R-Car family of automotive-use SoC chips since 2011. The R-Car V2H is the most advanced product in the company's second-generation R-Car family.
Renesas claims the V2H has all the image-recognition functions necessary for ADAS applications on a single chip. The V2H incorporates the IMR core dedicated to viewpoint conversion, the IMP-X4 core for image recognition that works with the ARM Cortex A15 dual core CPU, and the SGX531 3D graphics core. The IMR core has 6 camera channels. The configuration enables customers to build a high-resolution surround monitoring system—comprising up to 6 cameras with HD resolution (1280x782)—without imposing a heavy load on the CPU and the 3D graphics core. Power consumption is suppressed to 1.75W for the chip alone and to about 5 to 6W for the demonstration system with a four-camera configuration.
For the operating system, Renesas partnered with Green Hills Systems to implement the company's INTEGRITY real-time OS, impressed by its reliability and rich development environment.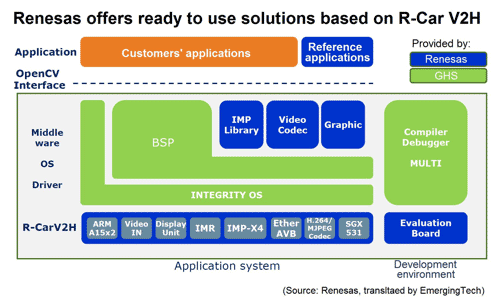 Renesas did not specify which image sensors should be used as input devices for the chip. This is in line with Renesas CEO Hisao Sakuta's declaration about a month ago that sensors are not a Renesas business, and that the company's policy would be to use the best product available at the time for the application in question. Omura elaborated on this, saying, "Customers often have their own preferences. The strength of our ecosystem is that it gives them the freedom to select whatever suits them best." In the ecosystem for the R-Car family, more than 130 suppliers are listed as device and software providers, according to Renesas.
The V2H is the first Renesas product for ADAS applications. A question springs to mind: Will Renesas be offering comprehensive ADAS solutions by combining microcontrollers for car control, which are a Renesas forte, with the R-Car SoC chips. Omura was certainly open to the idea, saying, "We'll offer what we can now. And we are thinking about what we can offer with the third generation."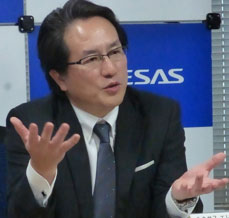 Ryuji Omura, executive vice president
Volume production is slated to begin in October 2016 and Renesas expects to be churning out 500,000 chips per month by October 2017.
Press releases:
Renesas Electronics New R-Car V2H Device Offers High-Resolution Image Recognition for Safer Driver Assistance Systems in Conventional and Emerging Self-Driving Vehicles
Green Hills Software Announces Renesas Electronics' R-Car Automotive Platform
Related articles:
Next steps are efficient HR deployment and ecosystems for system products: Sakuta, CEO of Renesas (Aug. 8, 2014)
Discontinuation of certain ASICs will help bottom line, but auto sector untouched (July 28, 2014)
Synaptics to acquire Renesas' LCD driver business (June 12, 2014)
Renesas back in the black with full-year operating profit (May 12, 2014)
Renesas starts offering 2nd generation automotive SoC chip (Mar. 23, 2013)