July book-to-bill ratio slips below 1
The book-to-bill ratio of Japan-based manufacturers of semiconductor equipment was 0.94 in July, back below 1 again, according to the book-to-bill ratio report issued by the Semiconductor Equipment Association of Japan (SEAJ).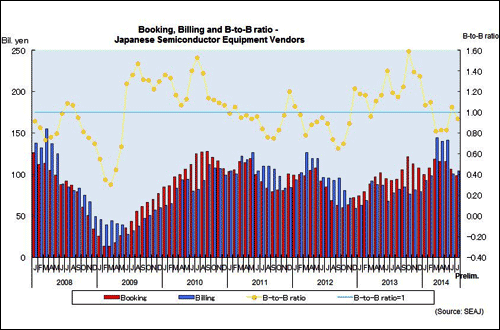 A book-to-bill ratio of less than 1 is usually interpreted as a signal that the market is shrinking since booking is below billing.
Booking on a three-month moving average in July was 98.4 billion yen (US$984 million*), having declined 8 billion yen or 7.5% from the previous month. Billing in July was 104.4 billion yen, up 3.4 billion yen or 3.4% from June.
* Original figures are in Japanese yen. The exchange rate is roughly US$1=100 yen.
Booking for wafer fab equipment by Japanese equipment vendors, which accounts for the major portion of booking, has actually declined. From March to May even when the book-to-bill ratio was below 1, booking was running at a high level. But during June and July, it became apparent that the three-month moving average was declining. On the other hand, equipment for assembly and test is on a roll, according to an SEAJ spokesperson.
On July 3, SEAJ announced its three-year forecast, which is released every six months. SEAJ forecasts a 4.2% year-on-year increase to 1,175 billion yen for semiconductor equpment made in Japan for 2014 as foundries will continue investing and memory facility investment has also recovered.
However, TSMC reportedly said it would delay the 16nm finFET process ramp up—originally slated for the 4th quarter of this year, as stated on July 16 at the announcement of the 2nd quarter results—until the second half of 2015. So, in view of the uncertainty, keep your eyes on the market in the months ahead.
Related site:
Book-to-Bill Ratio (Express Report) (English in page 2)