UMC allying with Fujitsu for 300mm fab
United Microelectronics Corp. (UMC) and Fujitsu Semiconductor Ltd. announced at the end of last month an agreement whereby the Taiwanese foundry will become a minority shareholder in the Japanese firm, in what appears to be the last in a series of moves to reorganize the major fabs of Japanese chipmakers. Highlights of the recent round of restructuring have included Sony's acquisition of Renesas' 300mm fab, Panasonic's sale of its principal fabs to TowerJazz, and the establishment of an SoC design JV by Fujitsu and Panasonic.
*Original figures are in Japanese yen. The exchange rate is roughly US$1=105 yen.
As the centerpiece of a semiconductor restructuring plan announced in February 2013, Fujitsu decided to carve out the chipmaking operations from its core businesses and has been seeking partners. Although TSMC initially surfaced as a potential partner, nothing came of it.
Now, after 18 months, a final settlement is in sight. Fujitsu's semiconductor operations will be reshuffled by the end of this year into two new subsidiaries—a 300m foundry in Mie Prefecture in alliance with UMC, and a 200mm foundry at Aizu Wakamatsu with partner On Semiconductor—plus a system memory business and Fujitsu Electronics, a sales company.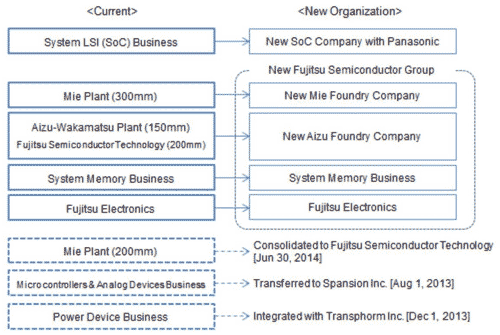 UMC will invest 5 billion yen (US$47.6 million*) in the 300mm Mie foundry, giving it 9.3% of the new company, and will provide 40nm process technology. The fab is currently using 90nm, 65nm and 55nm processes. Fujitsu had been considering the outsourcing of 40nm fabrication to TSMC, but in view of UMC's investment in the foundry, Fujitsu has decided to license UMC's 40nm process technology, according to a Fujitsu spokesperson.
At the Aizu foundry, which will consist of 200mm and 15mm fabs, On Semiconductor will invest 700 million yen in the 200mm fab by the end of this year, making it a minority shareholder with a 10% stake.
Although UMC and On Semiconductor are investing in these foundries, Fujitsu has no intention of removing these chipmaking subsidiaries from its consolidated accounts, according to a Fujitsu executive.
Panasonic and Fujitsu reached a basic agreement in April to set up a new SoC design company, in a deal sweetened with financial aid from the Development Bank of Japan. The two companies plus the government-owned bank signed the final contract in July. Based on the contract, a new fabless company, which will develop and design system-on-chip LSIs and sell them, will be established by March, the end of this fiscal year, once regulatory procedures have been cleared. Fujitsu and JDB will each own 40% of the equity, with Panasonic taking a 20% stake.
Press releases:
UMC Joins Fujitsu's New Foundry Company (Aug. 29)
Fujitsu Announces New Direction for its Semiconductor Business (July 31)
Fujitsu Semiconductor and ON Semiconductor Announce Strategic Partnership (July 31, 2014)
Regarding the Signing of a Definitive Agreement for the Consolidation of System LSI Businesses in New Company (July 31)
Related articles:
Fujitsu and Panasonic will form fabless SoC JV (Apr. 24, 2014)
Semiconductor fab reorganization (Jan. 7, 2014)
TowerJazz to acquire Panasonic's three semiconductor fabs in Japan (Dec. 24, 2013)
Will Fujitsu & Panasonic's SoC integration bring forth a "Japan foundry"? (Feb. 22, 2013)