Tokyo Electron upwardly revises first-half forecast
Tokyo Electron Ltd., having reported 46% year-on-year sales growth for the first quarter and a more than sixfold increase in operating profit, has revised its forecast for the first half of this fiscal year, raising the figure for sales 12 billion yen (US$120 million*) to 290 billion yen and that for operating profit 6.5 billion yen to 24.5 billion yen.
*Original figures are in Japanese yen. The exchange rate is roughly US$1=100 yen.
Spurred by a sharp recovery in equipment sales for memory fabrication led by DRAM in the first quarter, the rise in sales of wafer fab equipment (WFE) surpassed expectations, according to Tetsuro Higashi, president and CEO of Tokyo Electron.
Tokyo Electron expects the merger with Applied Materials to be completed before the closing of accounts for the second half. The company's forecast for the second half announced last April as a reference remains unchanged: sales of 307 billion yen and operating profit of 48 billion yen.
Tokyo Electron announced on Monday that together with Applied Materials it has refiled the merger notification with the Chinese authorities. Although the review by the Chinese authorities has exceeded the customary 180-day period, given the scale of the merger and the nature of the products involved Tokyo Electron views this as unexceptional and in line with usual procedures.
Tokyo Electron has reported to the Tokyo Stock Exchange the change of the provisional date of the share exchange accompanying the merger from September 24, which was originally set, to December 30. Higashi said the refiling will not have a major impact on the merger process and that he does not expect the merger to be delayed beyond December.
Innovation fuels WFE market growth
Tokyo Electron expects steady growth of the WFE market, commenting that technological inflection points—3D NAND, FinFET, multipatterning and other new processes—create opportunities for business expansion fueled by technologically driven demand. The company estimates the global WFE market will grow 15% to $32 billion this year, rising to $35 billion next year and $37 billion in 2016.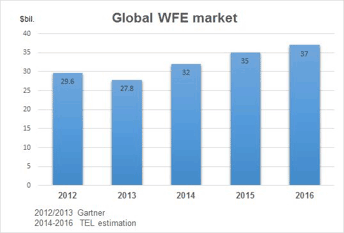 In this expanding market, Tokyo Electron aims to regain market share. It is shooting for 13-14% of the global WFE market this year, up from 10.5% in 2013.
Press releases:
1Q FY2015 Financial Announcement
Announcement on Financial Forecast Revision
Notice regarding the Change of the Effective Date of the Share Exchange
Related articles:
Applied Materials and Tokyo Electron to call post-merger company "Eteris" (July 9, 2014)
Blog: What's behind the Tokyo Electron-Applied Materials deal? --changing circumstances of a semiconductor industry challenged by spiraling investment in scaling (Sept.26, 2013)
TEL and Applied Materials to merge (Sept. 25, 2013)