AEC/APC Symposium Asia 2023 will be held in Tokyo, Japan on November 2nd, 2023. Please save the date!
AEC/APC Symposium Asia 2021 Report
Thank you very much for your attendance at AEC/APC Symposium Asia 2021!
We had more than 300 expertise from 4 regions.
Look forward to seeing you in 2023 in Japan.
AEC/APC Symposium Asia 2021 Awards
AEC/APC Symposium Asia 2021 Best Paper
TDA-014
"Application of Contrastive Representation Learning to Unsupervised Defect Classification in Semiconductor Manufacturing"
Shota Mizukami, Kioxia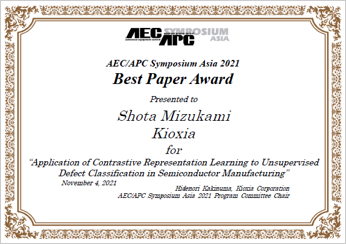 AEC/APC Symposium Asia 2021 Student Award
MPC-010
"Development of Virtual Metrology Using Plasma Information Variables to Predict Si Etch Profile Processed by SF6/O2/Ar Capacitively Coupled Plasma"
Ji-Won Kwon, Seoul National University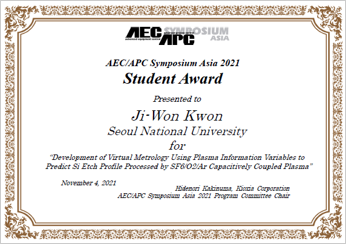 What's New
NEW!

Those who have registered for the AEC/APC Symposium Asia 2021 will be able to view the presentations on-demand until December 31.
An email invitation to the "Virtual Attendee Hub" and "Proceedings" was sent out to registrants today.
If you have not received it, please contact the secretariat. at aecapc_2021@semiconportal.com (10/28)
Please see the attendee manual from here. You can find access to Virtual attendee Hub to join the symposium, (To join the symposium, you need to register first) (10/28)


The notification of abstract acceptance of AEC/APC Symposium Asia 2021 has been sent to the all authors.
AEC/APC Symposium Asia 2021 Message
High-speed, high-performance and high-functionality semiconductor devices have made a great contribution to development of digitalized society. According to some estimates, however, along with an explosive increase of data volume, calculation amount and communication traffic, their power consumption is expected to exceed total amount of power generated on the earth in a few years.
AEC/APC has made a long-term contribution so far, as one of the key enabling technologies, to increase productivity of semiconductor devices. As new digital technologies such as AI and IoT spread in the market, more efficient and valuable initiative of digital transformation (DX) has started. In addition to DX promotion to enhance its competitive edge, each business is now required to address sustainability transformation (SX) which features broader perspective to contribute to the fields of ESG (environment/society/governance). SDGs are ultimate goals that every business must pursue.
It is essential for semiconductor devices to achieve lower power consumption in addition to higher speed, performance and functionality. Higher efficiency is required in R&D and startup of high-volume production. Environmental footprints need to be reduced also at the stage of production of semiconductor devices. Lowering costs and lead time through further productivity enhancement and process optimization is one of the solutions to reduce environmental footprints, but more comprehensive efforts are required so as to optimize consumption of utilities and raw materials or to extend environmental initiatives to supply chain and engineering chain. Amid such circumstances, AEC/APC providing various control loops, both small and large, grows increasingly important and need to evolve furthermore.
AEC/APC Symposium Asia 2019 Report
To check AEC/APC Symposium Asia 2019, click here.
About AEC/APC Symposium


Sponsored by:

Supported by:


In conjunction with:

Contact Us
AEC/APC Symposium Asia 2021 Secretariat
c/o Semiconductor Portal, Inc.
E-mail:aecapc_2021@semiconportal.com