Conference Information
ISSM2014
ISSM2014 is schedule to be held on December 2-3, 2014 in Tokyo, Japan.
CFP announcement will be posted on ISSM website on April.
ISSM2012 Best Paper
Result of ISSM2012 Best Paper

| | | | |
| --- | --- | --- | --- |
| paper # | Title | Affiliation | Author |
| MC-O-62 | Real-Time Transfer Control Method for Linear Tools | Hitachi | Teruo Nakata |
| PC-O-18 | Local overlay measurement and characterization for pitch-split double patterning process using CD-SEM | Hitachi | Shoji Hotta |
| PC-O-21 | Prediction and Control of Transistor Threshold Voltage by Virtual Metrology (Virtual PCM) using Equipment data | Panasonic | Tomoya Tanaka |
| PC-O-4 | Multi-parametric Virtual Metrology Model Building by Job-shop Data Fusion Using a Markov Chain Monte Carlo Method | Hitachi | Kenji Tamaki |
| PC-P-19 | Detection of Micro Arc Discharge Using ESC Wafer Stage with Built-in AE Sensor | AIST | Yuji Kasashima |
| PE-P-23 | A novel method of PECVD film uniformity improvement by nitrogen carrier gas implement | TSMC | Chung-Min Lin |
| PO-O-12 | MEOL Process Optimization for Low Cost TSV Fabrication | Renesas Electronics | Ryohei Kitao |
| PO-O-16 | Quantification and solution of wafer sticking in pattern plating | Renesas Electronics | Shinsuke Kozumi |
| PO-O-27 | Fluoride Contamination Induced NiSi2 Film Formation in a Gate NiSi Line | Renesas Electronics | Takuya Futase, PhD |
| PO-O-95 | Effect of Cu CMP Pad Clean on Defectivity and Reliability | GLOBALFOUNDRIES | Leong Lup San |
| UC-O-46 | Ultra-Fine Particle Removal using Gas Cluster Beam Technology | Tokyo Electron | Kensuke Inai |
| UC-O-87 | Manufacturing challenges of GaN-on-Si HEMTs in a 200 mm CMOS fab | IMEC | Denis Marcon |
| YE-O-55 | Yield Improvement by Identifying a Precursor NVD as the Root Cause of Electrochemical Induced Pitting Defects at Gate Oxide Patterning | Samsung | Jungtae Park |
| YE-O-79 | STI Crater Defect reduction for Semiconductor Device Yield Improvement | GLOBALFOUNDRIES | Liang Li |
What's new
ISSM 2012 adds more dynamic keynote speaker from TSMC. Dr. Doug Yu will address on "Innovations on Advanced Sub-system Integration" on October 17. Do not miss it!
Additional Keynote Speaker on October 16th: Dr.Raj Jammy of SEMATECH will speak on "Evolution of Semiconductor Device Technologies and the Revolution needed in Manufacturing"
The early bird registration is extended until October 5, 2012. Take advantage of the reduced conference fee. Sign up now and get an even more value enhanced experience.
New Package Price offers - 3days Keynote Sessions + Reception
Important Date
Abstract Submission Start

Monday, April 16, 2012

Abstract Submission Due


Thursday, May 31, 2012
Thursday, June 14, 2012

Notification of Paper Acceptance

Friday, July 20, 2012
Since its start in 1992 in Japan, ISSM has provided unique opportunities to share semiconductor manufacturing technology "best practices" for the benefit of professionals worldwide. At the symposium, semiconductor manufacturing professionals gather together to seriously discuss presented technologies developed because of the world wide need for semiconductor manufacturing technology advancement. The 20th annual ISSM will be held in Tokyo, Japan.
It is crucial to re-examine semiconductor manufacturing in terms of fundamental principles in order to continue scaling beyond the 20nm nodes. In addition, manufacturing technologies for preserving the earth's environment have become new challenges.
These manufacturing technology challenges show the need for drastic revolutionary thought and stronger collaborative efforts to find solutions to the pre-competitive challenges.
The ISSM 2012 will feature keynote speeches by world leading speakers, timely and highlighted topics in addition to the ISSM areas of interests, and networking sessions focusing on equipment/materials/software/services with suppliers' exhibits. ISSM contributes to the continued growth of the semiconductor industry through its infrastructure for networking, discussion, and information sharing among the world's professionals. We invite you to share your professional experiences at the 20th International Symposium on Semiconductor Manufacturing.
Program at a glance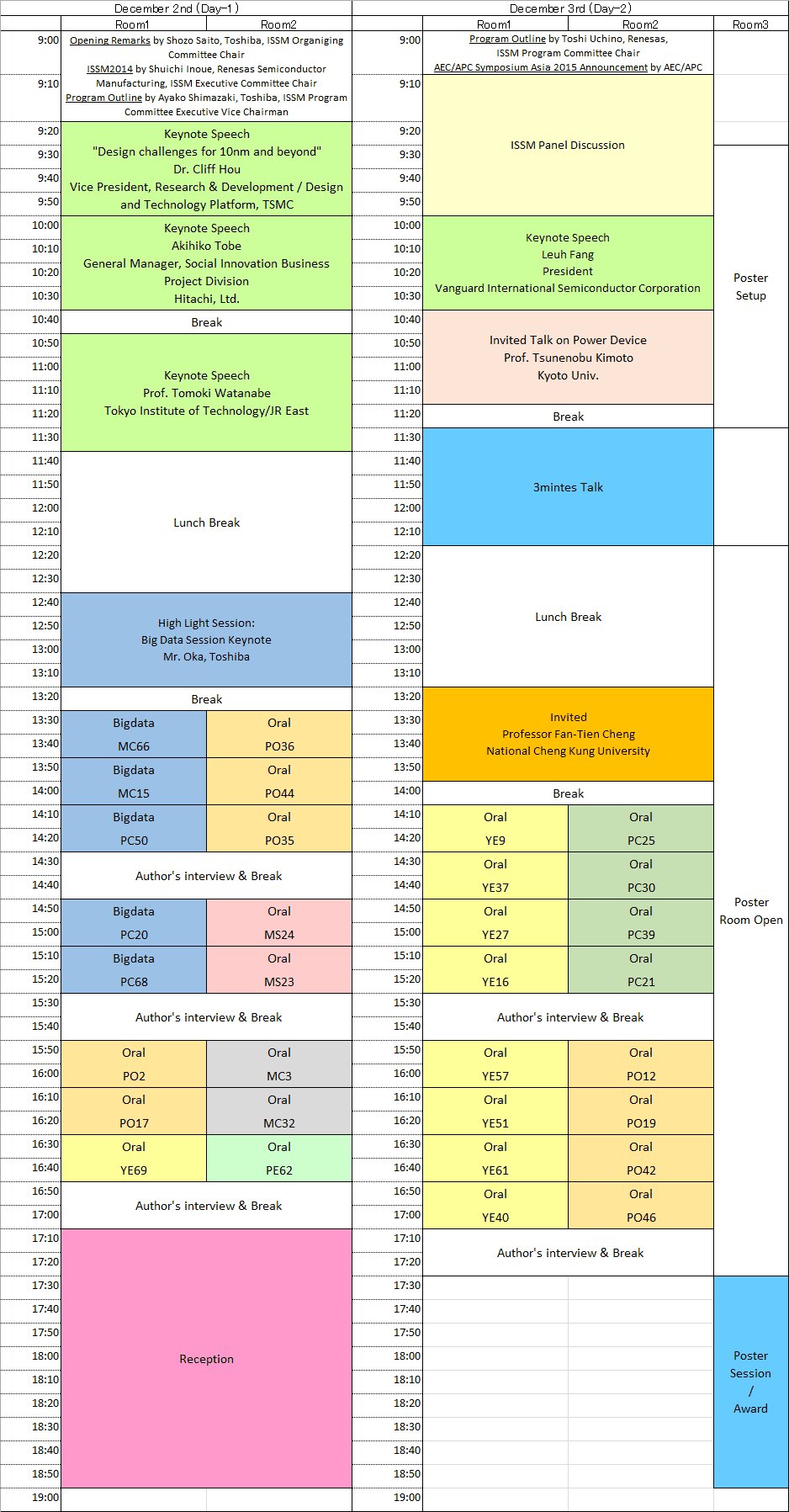 Click to enlarge
ISSM 2012 Sponsoring Organizations
Sponsor:

The Japan Society of Applied Physics
JSAP was established as an official academic society in 1946, and since then, it has been a leading academic society in Japan. The society's interests cover a broad variety of scientific and technological fields, and JSAP continues to explore state-of-the-art and interdisciplinary topics.
http://www.jsap.or.jp/
Co-sponsor:

The Institute of Electrical and Electronics Engineers, Inc. (IEEE)
From its earliest origins, the IEEE has advanced the theory and application of electrotechnology and allied sciences, served as a catalyst for technological innovation and supported the needs of its members through a wide variety of programs and services. IEEE Members are eligible for a special reduced conference registration fee. If you are not a member, and would like to join you may do so on the Internet at
http://www.ieee.org/services/join/
IEEE Electron Devices Society (EDS)
The Electron Devices Society (EDS) is involved in the advancement of electronics and electrical engineering through research, development, design, manufacture, materials, technology and applications of electronics devices. EDS has been concerned with technical, educational, scientific publication, and meeting activities which provide benefits to members while contributing towards the progress of this field.

emiconductor Equipment and Materials International (SEMI)
Semiconductor Equipment and Materials International (SEMI) is an international trade group representing manufacturers of semiconductor and flat panel display equipment and materials. Since 1970, SEMI has served the access, community, advocacy needs of the global semiconductor, display, MEMS and related industries with innovative member products and services, including: International Standards, Business and Technical Programs, Public Policy, Environmental Health & Safety, Industry Briefings, Statistics and Global SEMICON expositions. Find out more about SEMI at
http://www.semi.org/
Contact to issm issm_2014@semiconportal.com for further inquiries.