What's New
NEW! Mark your calendar for AEC/APC Symposium Asia 2019 which will be held on Wednesday, November 13th, 2019 @ National Center of Sciences Building (Gakujutsu Sogo Center), Tokyo, Japan! Abstraction Submission is scheduled to start on Mid of May, 2019
AEC/APC Symposium Asia 2017 Report
AEC/APC Symposium Asia 2017 Awards
AEC/APC Symposium Asia 2017 Best Paper
[MT-10]
Robust FDC based on gray box model
Yuko Jisaki, Panasonic Industrial Devices Engineering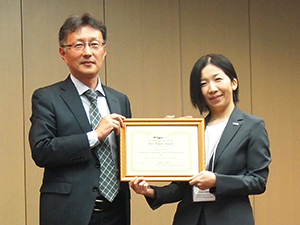 AEC/APC Symposium Asia 2017 Best Poster
[MT-12]
Practical Approach to Further Reducing False Alarms in Dynamic Fault Detection
Tom Ho, BISTel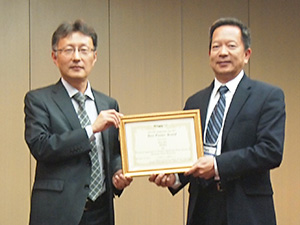 AEC/APC Symposium Asia 2017 Student Award
[DA-22]
Sparse Modeling for Automatic Extraction of Variables to build accurate Virtual Metrology Models
Yuri ISHIZAKI, Bu Hui Zhen, University of Tsukuba
AEC/APC Symposium Asia 2015 Report
To check AEC/APC Symposium Asia 2015, click here.
About AEC/APC Symposium
A new era of AEC/APC by the confluence of IoT and AI
AEC/APC symposium calls its annual conference in North America, Europe, and Asia. The suppliers of the device, the equipment, the material, the software, the sensor, and the metrology shall meet, and discuss the more intelligent and the higher productive manufacturing system in the conferences. The conference is held in Taiwan and Japan every other year. AEC/APC is called the core of the scientific manufacturing technology. The technology has created the extensive progress of the productivity improvement and the yield improvement in the semiconductor manufacturing area. The technology discussed in the conferences has been applied and used in the process technology of LCD and PV.
In Japan, the 6th conference is called in this year as the 10th anniversary event since the 1st conference of 2007. Since 2007, the conference has discussed the scientific manufacturing technology using the data which can monitor the manufacturing equipment and the process conditions. This year, the symposium puts the subtitle " A new era of AEC/APC by the confluence of IoT and AI"
IoT era is said to begin. The manufacturing equipment and the sensing technology of the process condition have made the intense progress. The next generation AEC technology is ready for the equipment to use IoT technology. The technology allows to collect the massive data of the process condition from the various angles. Because of AI which can manipulate the massive data, the next generation APC technology begins to lift off.
The symposium is a very good chance among the technical authorities from Japan and from out of Japan to share their knowledge and technologies in AEC/APC area. The symposium can also be a very good chance for the professionals of the process control industry such as semiconductor to meet and discuss.
Today, this area already forms the core part of the manufacturing engineering technology.
The role of this symposium is very important, since people can share the information and the directions of the process control improvement, the equipment productivity improvement, and the material source reduction for the future.


Sponsored by:

Supported by:



In conjunction with:

Contact Us
AEC/APC Symposium Asia 2017 Secretariat
c/o Semiconductor Portal, Inc.
4F Masonic 39MT Bldg.
2-4-5, Azabudai, Minato-ku, Tokyo
106-0041, Japan
Tel. +81-3-5733-4971 Fax. +81-3-5733-4973