What's New
NEW! Mark your calendar for AEC/APC Symposium Asia 2017. It will be held on November 15th, 2017 at National Center of Sciences Building (Gakujutsu Sogo Center).
AEC/APC Symposium Asia 2015 Report
[PO-O-12]
New Equipment Monitoring Method Using Impedance Measurements
Yosuke Inoue Renesas, Semiconductor Manufacturing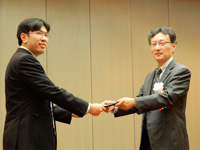 AEC/APC Symposium Asia 2015 Student Award
[DA-O-34]
Applications of machine learning and data mining methods for advanced equipment control and process control
YiFan WANG, Yuri Ishizaki, University of Tsukuba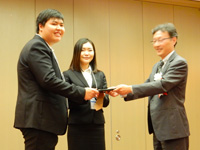 AEC/APC Symposium Asia 2015 Poster Award
[MT-P-36]
Detection of wrong assembly in equipment maintenance with EES data
Daisuke Tokiwa, Toshiba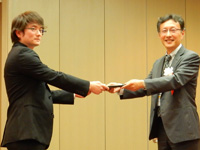 About AEC/APC Symposium
This symposium, part of a series of such meeting held three times a year in North America, Europe, and Asia brings together IC manufacturers, suppliers in an effort to accelerate the move toward more efficient and more intelligent manufacturing through data-driven and automated decision making.
In recent years, remarkable achievements are born in the field of AEC/APC which can be so called the core of scientific semiconductor production technology. It is an important factor holding the key to improving efficiency of equipment and yield enhancement in leading-edge LSI manufacturing.
Experts will present the results of advanced development AEC/APC in the field of AEC/APC and exchange the knowledge and technology. Device manufacturer, equipment manufacturer, software vender, sensor and metrology maker will get together at AEC/APC Symposium Asia 2015.


Sponsored by:

Supported by:



In conjunction with:



Plasma electronics seminar (JSAP)
Contact Us
AEC/APC Symposium Asia 2015 Secretariat
c/o Semiconductor Portal, Inc.
4F Masonic 39MT Bldg.
2-4-5, Azabudai, Minato-ku, Tokyo
106-0041, Japan
Tel. +81-3-5733-4971 Fax. +81-3-5733-4973