Conference Venue

Kyoto - Ancient capital of Japan
As the ancient capital from 1200 years ago, the Japanese see Kyoto as the cultural heart of the country. The beautiful surroundings and the cultural heritage attract people from all over the world. Visitors are entranced by the charms of the city and the vibrant sites and sounds of traditional Japan.
Kyoto is a sophisticated blend of the ancient and the modern, an urban environment where museums, four star restaurants and active entertainment venues flourish alongside temples, small shops and quiet neighborhoods.
Less crowded than other cities in Asia, and having a lower cost of living than Tokyo, Kyoto assures an ideal living and creative environment.
This center of innovation has a reputation for fostering leading research and the development of high technology firms. Kyoto has the highest percentage of academics per capita in Japan with over 40 universities and 50 research organizations. Most of Japan's Nobel Prizes have been awarded to researchers from Kyoto University.
With a proud cultural heritage and modern goals for the future, Kyoto is absolutely unique in Japan.
The following websites help you to get know better about Kyoto:
Kyoto Travel Guide http://www.kyoto.travel/
Kyoto Visitor's Guide http://www.kyotoguide.com/

IITC 2013 Conference Venue - Kyoto Research Park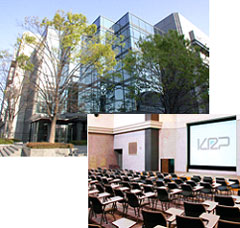 No. 4 Building, West Zone,
Kyoto Research Park (KRP)
IITC Conference
-- Bazz Hall (B1F)
IITC Exhibits and Poster Session
-- Banquet Hall (B1F)
Kyoto 600-8815, Japan
Tel: +81-75-322-7888
Fax: +81-75-322-5348
http://www.krp.co.jp/english/access/index.html

Access to IITC 2013
The conference venue, KRP, is located in Kyoto. The nearest airport is Kansai International Airport (KIX) for international flights and Osaka (Itami) Airport for domestic flights.
The following websites are useful for your travel planning.
Kansai-International Airport (the closest international airport to Kyoto)
Narita International Airport
Haneda Airport (Tokyo International Airport)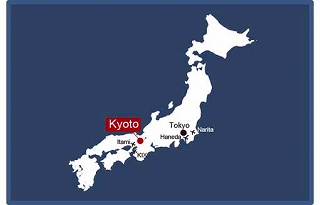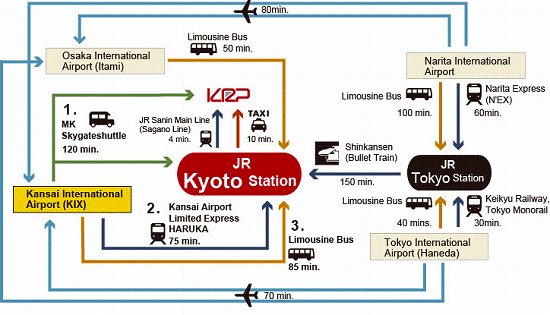 From Kansai International Airport to Kyoto City
http://www.kansai-airport.or.jp/en/index.asp
MK Skygateshuttle (3,500 JPY)
This service takes you directly to your destination. A Shuttle reservation is required 2 days before your arrival date. The Meeting point (MK counter) is located next to Gate H of the airport South Exit. Traveling time is about 120 minutes.
For more information: http://www.mktaxi-japan.com/
Kansai Airport Limited Express HARUKA, by Japan Railway (JR) (2,980 JPY for non-reservation seat)
Traveling time to Kyoto Station is 75 minutes. The tickets can be purchased at the station office.
For more information:
http://www.westjr.co.jp/global/en/travel-information/routemap/kansai-airport/
Limousine Bus, by KATE (Kansai Airport Transportation Enterprise) (2,500 JPY)
This bus leaves every 30-40 minutes. Traveling time to JR Kyoto Station is about 85 minutes. The tickets can be purchased from vending machines located near the bus stops.
For more information: http://www.kate.co.jp/pc/index_e.html
From JR Kyoto Station to Kyoto Research Park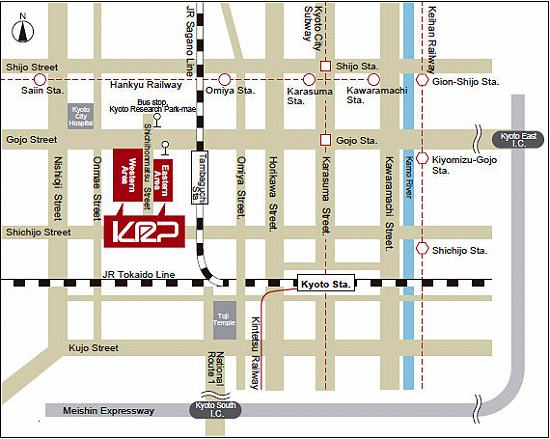 By Taxi

10 minutes (Approx. 1,000 JPY)

By JR Sagano Line to "Tambaguchi" Station (4 minutes ride)

5 minutes walking distance from "Tanba-guchi" Station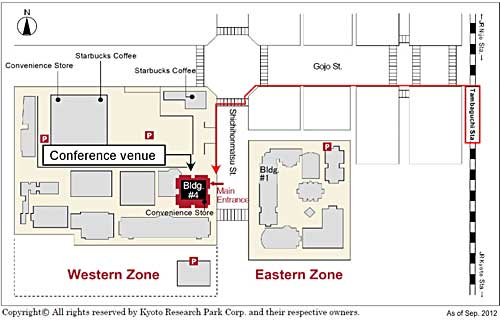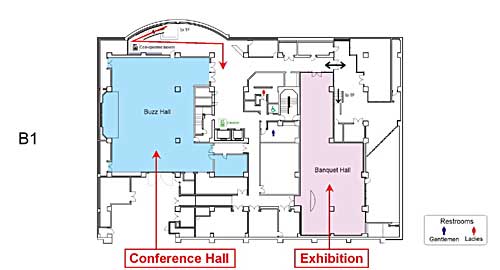 By City Bus at Bus Stop of C5 at Kyoto Station to Kyoto Research Park Bus Stop (15 minutes ride)

5 minutes walking distance from "Kyoto Research Park" Bus Stop of Route 73 or 75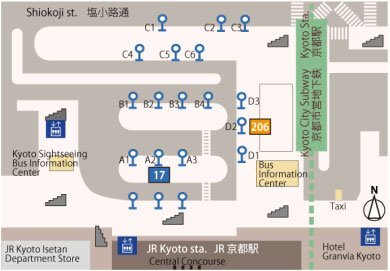 By Kyoto Bus at Bus Stop of C5 at Kyoto Station to Gojo Senbon Bus Stop (15 minutes ride)

5 minutes walking distance from "Gojo Senbon" Bus Stop of Route 81 or 83

By Keihan Kyoto Kotsu Bus at Bus Stop of C2 at Kyoto Station to Kyoto Research Park Bus Stop (15 minutes ride)

5 minutes walking distance from "Kyoto Research Park" Bus Stop of Route 21 or 27
Kyoto Research Park