Sharp to suppress a-Si LCD production, converting to IGZO technology
Sharp Corp. expects the record-worst business results for this fiscal year mainly because of LCD panel and LCD TV business. The company intends to prepare IGZO panel production at its flagship 10th generation plant in Sakai expecting that demand for IGZO will expand to not only smartphones but tablets and monitors and note PCs.
"IGZO panels are expected suitable for smartphones and tablets, but there is much wider demand of IGZO applications is emerging. We are now proposing IGZO panels for notebook PC displays and PC monitor display and have got good reactions. We count on IGZO as new business," said Mikio Katayama, president of Sharp.
Among LCD TV suppliers that are suffering large amount of losses, Sharp's LCD TV businesses had been in the black up to the first half of this fiscal year (April-September).
However the business was damaged by a big plunge in the Japanese market. Japan terminated analog terrestrial TV broadcasting and shifted to digital last July. After the shift, LCD TV vendors expected sales would drop sharply, but real sales were much worse than expectation. In the third quarter, the LCD TV market on a value basis in Japan shrunk to a 20% level compared with the same period one year, according to Katayama.
Sharp revised downward its business results for this fiscal year ending March. Sales would be 15.6% down to 2,550 billion yen compared with the previous year and net profit would be 290 billion yen in the red turning from 6 billion yen in the black forecast at the beginning of the fiscal year.
"LCD TV and LCD panel business are to be blamed for this business result," said Katayama. Departing from conventional LCDs that became commodity products, "We'll focus on IGZO and large panels more than 60-inch, which is a niche market but with few contenders," he said.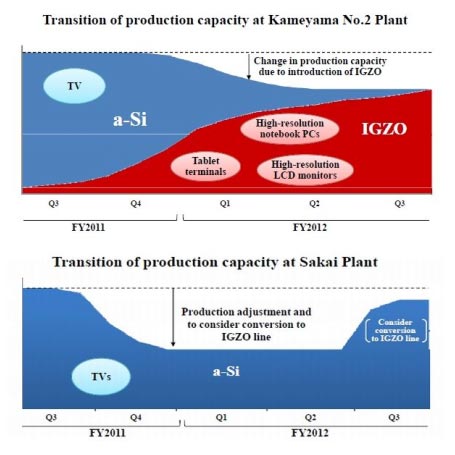 IGZO shipment at Kameyama No. 2 plant will begin this month. Sharp will reduce operation of the Sakai plant about half to adjust inventory and considering to convert part of lines for IGZO panels if demand expansion can be expected.
Press releases:
Consolidated Financial Results for the Third Quarter Ended Dec. 31, 2011
Notice of Revision of Financial Results Forecast and Dividend Forecast
Related articles:
Sharp to change to new IGZO structure within this year (June 5, 2012)
IGZO panel to feature less than 500mW power consumption for tablet (Apr. 20, 2012)
Sharp giving up commodity TV panel production to concentrate on small/mid-size LCDs (June 14, 2011)
Sharp to introduce new IGZO technology for cost-competitive high-resolution small/medium LCDs (Apr. 22, 2011)