Active 3D glasses: Global standard emerging
Major suppliers of 3D systems using active shutter glasses have agreed to standardize communication protocols so consumers can use the same 3D glasses for different brands of 3D TVs and 3D projectors as well as in 3D movie theaters.
Panasonic Corp., Samsung Electronics Co., Ltd., Sony Corp. and X6D Ltd. announced on August 8 their intention to standardize communication protocols for 3D active shutter glasses to accelerate the spread of 3D display systems. The four companies formed the HD 3D Glass Initiative to build a new 3D communications standard covering Bluetooth-based radio frequency communications and multiple infrared communication protocols for 3D active LCD shutter glasses.
The Initiative announced today that four more companies—Philips, Sharp Corp., TCL Corp. and Toshiba Corp.—have also agreed to support its activities.
In January, Panasonic and X6D, a major supplier of Xpand-brand 3D systems for movie theaters, unified infrared communication protocols for 3D active shutter glasses, naming the resulting standard M-3DI. Thus, M-3DI guarantees the compatibility of 3D active shutter glasses for Panasonic's 3D products and Xpand 3D's cinema system. Eight companies—Changhong Electric Co., Ltd., Funai Electric Co., Ltd., Hisense Electric Co., Ltd., Hitachi Consumer Electronics Co., Ltd., Mitsubishi Electric Corporation, Seiko Epson Corporation, SIM2 Multimedia S.p.A. and ViewSonic Corp.—support the M-3DI standard. Panasonic and X6D started licensing M-3DI to them in April.
With the launch of the Full HD 3D Glasses Initiative, the M-3DI standard has been included in the Full HD 3D Glasses standard. The new 3D standard also includes proprietary IR communication protocols developed by Samsung and Sony.
As only Samsung offers 3D systems with a Bluetooth-based RF communication protocol, Samsung's protocol is expected to be the RF protocol for Full HD 3D Glasses.
The Initiative intends to start licensing the new 3D standard later this month. Toward the end of this year, the Initiative plans to begin certifying products compliant with the standard, which will be allowed to carry the following logo.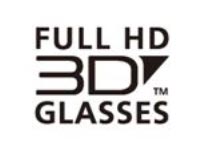 Supporters of M-3DI are expected to support Full HD 3D Glasses once the M-3DI protocol is absorbed in the new standard, said a spokesperson of Panasonic.
Press releases:
'FULL HD 3D GLASSES INITIATIVE' RECEIVES SUPPORT FROM FOUR GLOBAL TV MANUFACTURERS
PANASONIC, SAMSUNG, SONY, AND XPAND 3D JOIN FORCES IN ¡ÆFULL HD 3D GLASSES INITIATIVE' (Aug. 9, 2011)
M-3DI Standard to Create Compatibility among 3D TVs, 3D Projectors and 3D Cinemas