IGZO-TFT panel turns heads in display market where quality is king
Eager customers around the world can finally get their hands on the new iPad, long nicknamed the iPad 3 or the iPad HD. Its principal new feature is a twice-higher resolution retina display, which, rumor has it is Sharp's IGZO (indium-gallium-zinc oxide) panel. All will be revealed soon by tear-down investigations, but IGZO panels have already attracted attention among panel manufacturers and will soon appear in other manufacturers' products. The Japan Science and Technology Agency (JST), which spearheaded the initial stage of IGZO development, has been active in licensing its pooled patents covering the technology, starting with Samsung last July.
Back in 1995, Hideo Hosono, professor of Tokyo Institute of Technology, championed new transparent semiconductor materials and named them transparent amorphous oxide semiconductors (TAOS), which have high electron mobility comparable to that of crystal. But TAOS attracted little attention at that time.
JST selected Hosono as the project leader of JST's Exploratory Research for Advanced Technology (ERATO) project in 1999. Each of the ERATO projects is led by an innovative researcher that JST selects and the project leader can focus the R&D team on his preferred theme.
JST provided 300 million yen (US$3.8 million*) per year for Hosono's five-year ERATO project. Hosono studied candidate materials for TAOS, and in 2004 developed a TFT with IGZO, one of the TAOS materials, fabricated on a plastic film at room temperature. Its electron mobility is one-digit higher than that of amorphous silicon TFT.
* Original figures are in Japanese yen. The exchange rate is roughly US$1=80 yen.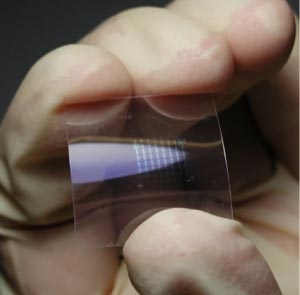 IGZO TFT developed in 2004 by Professor Hosono (Source: JST)
The achievement triggered development of IGZO panels at institutes and manufacturers such as Canon, Toppan Printing, Samsung and LG Electronics. Samsung is one of leaders in IGZO development and demonstrated a 70-inch IGZO deisplay in November 2010.
At a press conference last July, Hosono said that he believes new materials should be used widely and so he wants to license patents to any company that can make use of them to make products. JST intends to license pooled patents related to IZGO technology widely. After Samsung, JST contracted with a domestic panel manufacturer in January, whose name has not been disclosed. JST also licensed IGZO-related patents to six material manufacturers.
As Japanese electronics manufacturers are being overwhelmed by Samsung, there were some critical voices about JST's licensing to Samsung.
On the other hand, Sharp's IGZO panel was developed jointly with Semiconductor Energy Laboratory Co., Ltd. (SEL), which also partnered Sharp in the development of continuous grain silicon TFT panels back in 1998. SEL, established in 1980, is a company focused on R&D that licenses patents to manufacturers.
The CG silicon TFT features higher mobility, claimed to be about triple that of low-temperature polysilicon TFT panels. Sharp is supplying CG silicon panels for smartphones.
Sharp started volume production of IGZO panels in February at its 8th generation Kameyama II fab about two months behind schedule.
The IGZO research at JST is unrelated to Sharp, according to a JST spokesperson.
Related press release:
JST Signs Patent License Agreement with Samsung for High Performance Thin Film Transistor Technology (July 20, 2011)
Related articles:
Sharp to change to new IGZO structure within this year (June 5, 2012)
IGZO panel to feature less than 500mW power consumption for tablet (Apr. 20, 2012)
Sharp to suppress a-Si LCD production, converting to IGZO technology (Feb. 1, 2012)
Sharp to introduce new IGZO technology for cost-competitive high-resolution small/medium LCDs (Apr. 22, 2011)