NGK develops liquid phase epitaxy 4-inch gallium wafer
NGK Insulators, Ltd. announced it has developed a gallium nitride (GaN) single-crystal wafer featuring luminous efficiency twice that of current LEDs by using a crystal growth method from the liquid phase. The company started sampling 2-inch wafers last December and plans to begin offering 4-inch samples within this year.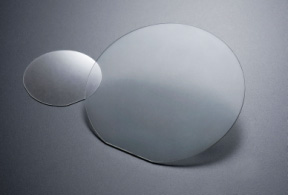 2-inch and 4-inch wafers featuring colorless transparency.
NGK's original liquid phase epitaxial growth technology made it possible to lower defect density of the GaN wafer to the fifth power per square centimeter and realized colorless transparency over the entire wafer surface, according to an NGK spokesperson.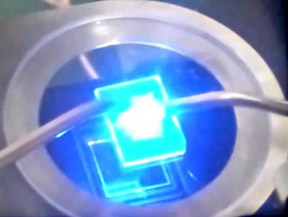 0.3mm LED sample device on a 1cm-square GaN substrate.
Input current: about 200mAӢWavelength: 450nm
NGK reported that LED devices fabricated on its GaN wafer at a third-party institute have achieved an internal quantum efficiency of about 90% with an input current of 200mA. The internal quantum efficiency depends on the defect density and the efficiency of LED devices currently on the market is 30-40%, according to the company. This means that the device will be able to realize luminous efficiency of 200 lumens/W, double that of current LEDs.
NGK's Wafer Project team established this month will concentrate on the development and promotion of GaN wafers. The company intends to widen the customer base for its wafers from LED manufacturers to include manufacturers of other devices such as power devices and power amplifiers. Development will focus on lowering defect density further and enlarging wafer size to 6-inch.
Within this fiscal year, the company plans to establish production capacity of 1,000 wafers a month. It is targeting annual sales of 10 billion yen for GaN wafers by fiscal 2018.
Related articles:
NGK entering GaN wafer market in April (Jan. 19, 2012)
Sumitomo Electric develops 2-inch GaN wafer for green lasers (Nov. 30, 2010)
Sumitomo Electric to sample 6-inch GaN substrate by March (Nov. 17, 2010)
MHI bonds SiC and GaN with silicon wafer at room temperature (July 26, 2010)